About Ashley Friedlein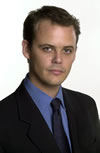 Ashley is CEO and co-founder of E-consultancy which publishes research and guides on best practice online marketing and e-commerce. E-consultancy also runs events and training for leading e-commerce companies in the UK. With over 25,000 registered users and over 100 Corporate Members, E-consultancy is respected as a trusted and independent source of information and advice on best practice online marketing in the UK.

Ashley Friedlein is a well respected internet expert in the UK and internationally. Ashley began his internet career working on the FT.com web site and was then involved in launching the Marks & Spencer, Argos, Abbey National and Channel Five sites whilst Project Director at leading UK agency Wheel.

As well as regular articles for the trade press, including Marketing Week, Revolution, New Media Age and Internet Works, Ashley has also written two best selling books on web site management. Between them the books have sold over 40,000 copies worldwide and have been translated into French, German and Chinese:

Web Project Management: Delivering Successful Commercial Web Sites.
Publisher: Morgan Kaufmann; 1st edition (October 2000)

Maintaining and Evolving Successful Commercial Web Sites: Managing Change, Content, Customer Relationships, and Site Measurement. Publisher: Morgan Kaufmann; (December 10, 2002)

Ashley has also spoken at numerous international conferences, from the USA to Croatia, as well as trade events in the UK, on a range of internet and e-commerce topics.

Ashley's industry sector knowledge is particularly strong for: Retail Financial Services, Retail and Publishing The topics Ashley is most knowledgeable on are: Affiliate Marketing, Online Branding and Creativity, Content Management, E-mail Marketing, Interactive Advertising, Online PR, Online Surveys & Research, Web Project Management, Search Engine Marketing, Usability, Accessibility, Web Measurement and Analytics.

Ashley contributes regularly to his blog and the E-consultancy expert forum.